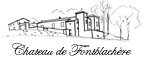 Workshops and workshops in 2020
The Fontblachère Bed and Breakfast opened in the summer of 1999, 20 years ago and in 2020 I will launch new perspectives!
I am now at a turning point in my life. Because at the start of the year, I stopped running around the world for my job as an architect. We call it retirement!
And my partner, Bernard for everyone we knew, died at Christmas 2019.
Now, I will devote myself to Fontblachère to develop new activities there.
For 30 years this place has always evolved and we, Bernard and I, have always worked to make this place authentic and "in its own juice" as they say.
It has always brought together families and friends from all walks of life, when we had our New Year celebrations there.
Fontblachère is a magical place, through these meetings

with our hosts who sometimes extend their stay or come back every year and become friends. AT
present their children who are also beginning to invest places exploring the multiple activities around our home.
This sharing and this authenticity have always been our important values. I will now

further

develop this aspect.
For 20 years we have met people from all countries, professions, passions and so many true and deep exchanges…. That is also extraordinary.
For my part, I exercised my profession of architect with enthusiasm, which does not prevent me from having many other passions: artistic creation, painting, cooking, sometimes writing, gardening a little, provoking meetings between people, sharing our know-how, our projects and our dreams.
So I thought that Fontblachère is the ideal place to encourage those who have passions and those who seek to develop their own and find themselves here.
Staying in Fontblachère has always been a good time spent in a relaxing, peaceful and beautiful place in Bed and Breakfast or in a Cottage! From 2020, it will be sharing our passions and those little moments of life that make the difference later when we think about what our life has been like.
There are already many intense moments around a dinner in the orangery. The lively discussions and each other's stories were fascinating. Or during an exhibition of a painter or a photographer, embroidery workshops that my sister Catherine, gave in summer under the calabert to a small group of people assiduous and amazed by her techniques and her art of transmitting simply this know-how of our grandmothers who prepared their young girl's trousseau, or did the embroidery on the clothes they made for special occasions!
I myself remember teaching the theory of color or painting to my children by making each a table or the course went through a game. Sometimes we could no longer distinguish who had done which! what a good memory!
Well, you understand, that's what I'm going to advance at Fontblachère from 2020.
I have lots of ideas, and Fontblachère is a place that can accommodate people from 5 to 23 people approximately for a stay on site in guest rooms or in gites for several.
So there is more than! I will offer painting workshops, cooking, writing, ... and maybe more depending on the people I meet and who will want to join me to share a know-how, a joie de vivre, exchanges rich in diverse experiences in this perfectly suitable place to live in harmony with exciting people.
This is what I wanted to say on this page, which will announce the following pages that I will put in the
NEWS
from this website as it all develops. I will send NEWS LETTER as and when they are created.
Eric